I just got done with the redrawn "Act Nine," which for those who have been reading for a while would better reconginze as the latter part of the old "Opposition." The act was originally way too long. A split was necessary to make the chapter more manageble not just for print, but also to give readers a break o_O The added chapter is titled "Battle Royal."
It's still a long chapter, all the same.
I am going to be realistic: the art is a great improvement to the old pages, but there are pages I see that STILL are sloppy and will need editing before this act goes to print. Luckily, I'm only now working on Act 4 this year (I finally got it all dropped into an InDesign file to print and edit and started marking pages that need to be fixed up). I also am a bit all over the place with the pacing. I recognize this as a weak point in my writing. In my desire to keep this act from running into 40 pages, I think I sped up the wrong places, and kept stuff that could have been shaved off. I dunno. I know there are issues, but I am still glad to have gotten this redraw complete.
And most importantly, in spite of the need to fix sloppy pages, I am going to move forward with the next chapter of the revamp, because I NEED to catch up to where I am here, so I can comfortably move forward with the story (ya'll, being on haitus here is killing me. But keeping on with chapters was also killing me. I guess death becomes her either way XD I kid. It'll be okay).
Let's move along.
So the cover is brand new. I modeled it off of promotional boxing posters. I've talked about this in some of my
YouTube videos
, so I won't go into detail here, but the title "Battle Royal" was inspired by Ellison's chapter in
Invisible Man
(a very educational read), as well as just a tiny homage to the 1980s cult classic from Japan,
Battle Royale
(but, really, my motivations behind the name fit more with the lose/lose situation chronicled in the "Battle Royal" chapter of
Invisible Man
.
I'm working on my use of color, in addition to compostion. I need to work more on compostion, but I'm gonna share some highlights from the redrawn act :D
Since I split the last chapter in two, I needed a page to act as an introductiont. So I wanted to make sure we were remembering some key moments from earlier in the story, such as Rin's nightmare sequence. I also was again thinking of how I can restrain my use of color (because ya'll, I like to just throw every color on the page XD But I am THINKING! I am TRYING! XD XD) So the colors, as you can see, are varying tints and shades of the primaries. Red, because Rensha is the agressor here and probably the angriest. Yellow for the mystery figure. And blue for Rin, not just because it's her lotus color, but also to help convey her sense of anxiety/worry/fear.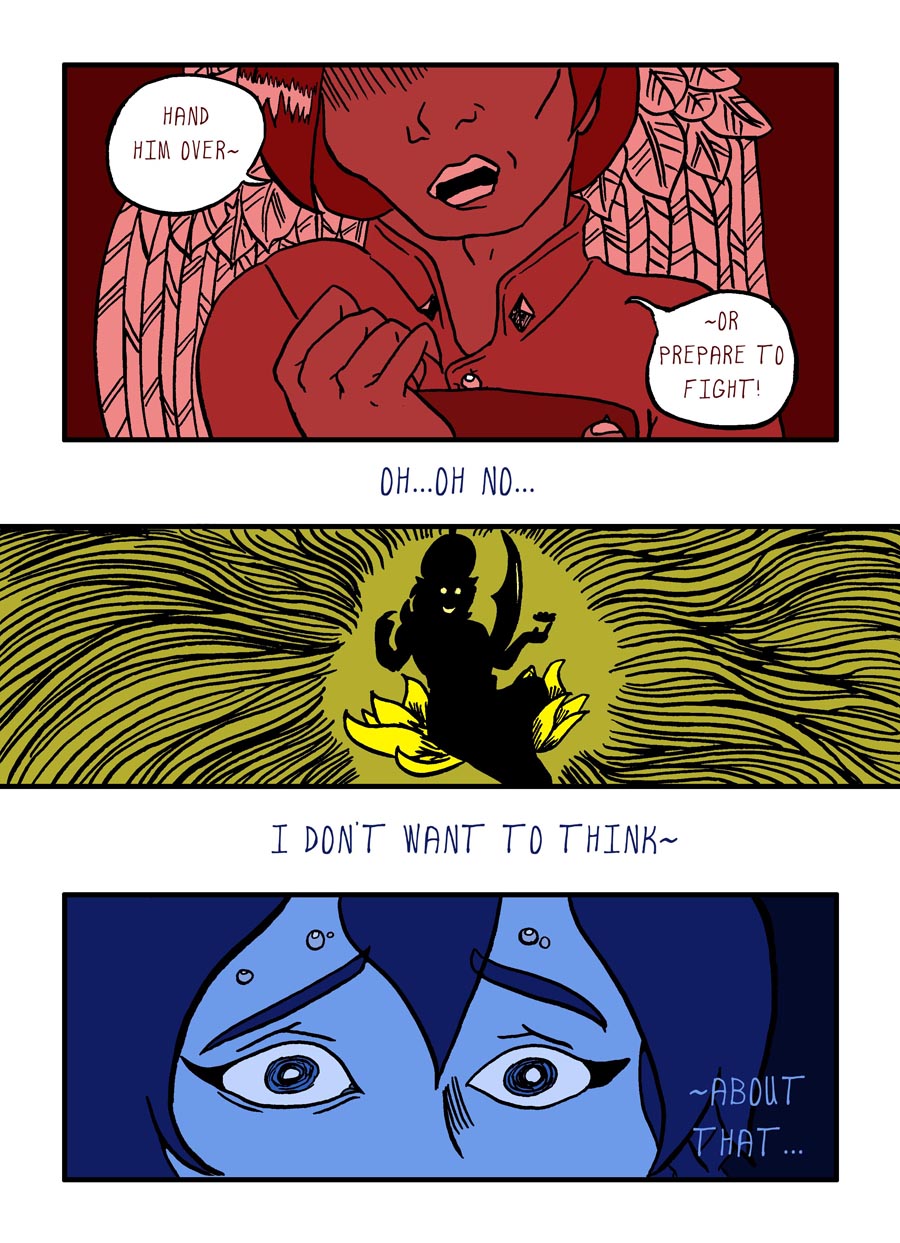 Page Comparrisons (and you know I'm only showing the ones I am proud of XD):
This original page not only lacks decent backgrounds, but also doesn't really convey the right emotions I wanted. In the last act of the revamp (now the official version here on ComicFury), I established Rensha creating a barrier, so without the need to have Rin exposit, I instead focused on her insecurities to better show that while she's fighting, she's also very unsure of herself. Remember: often when characters are nude (not always, but often), this us experiencing their inner voice (such as was seen in
Act 4 when Kanna was conversing with Keisuma
).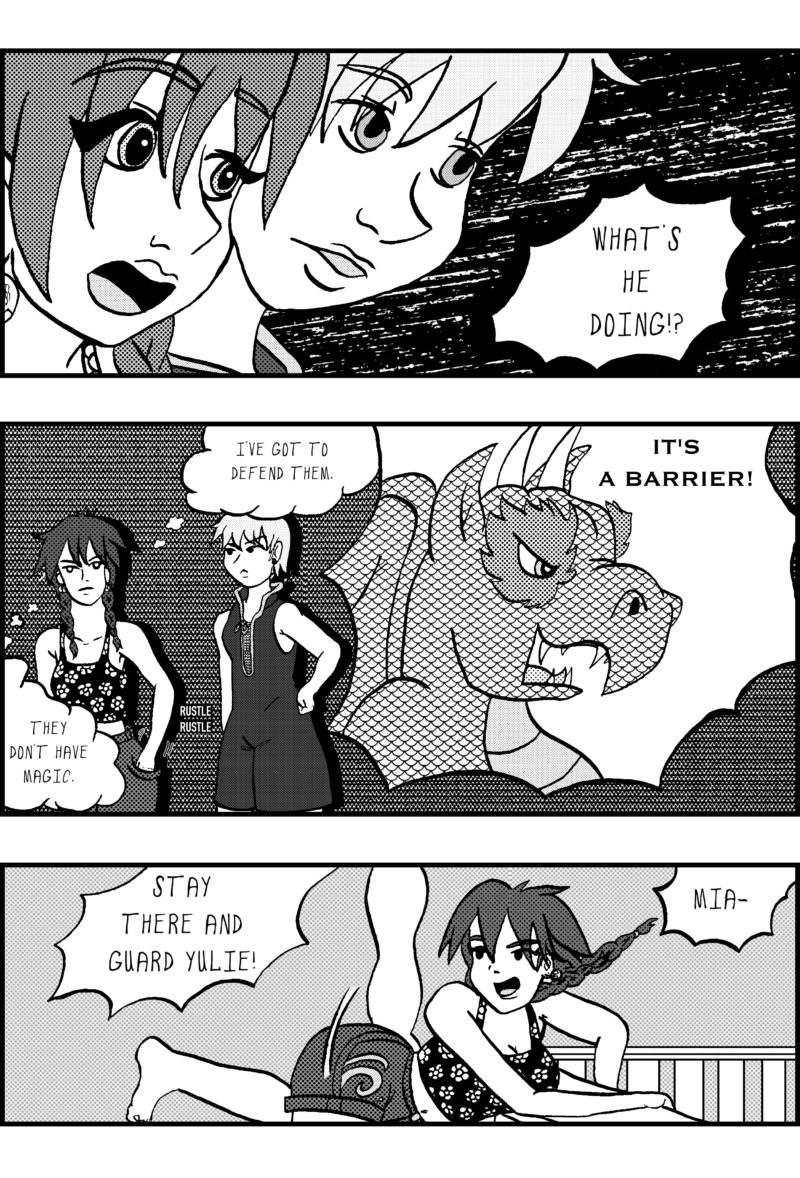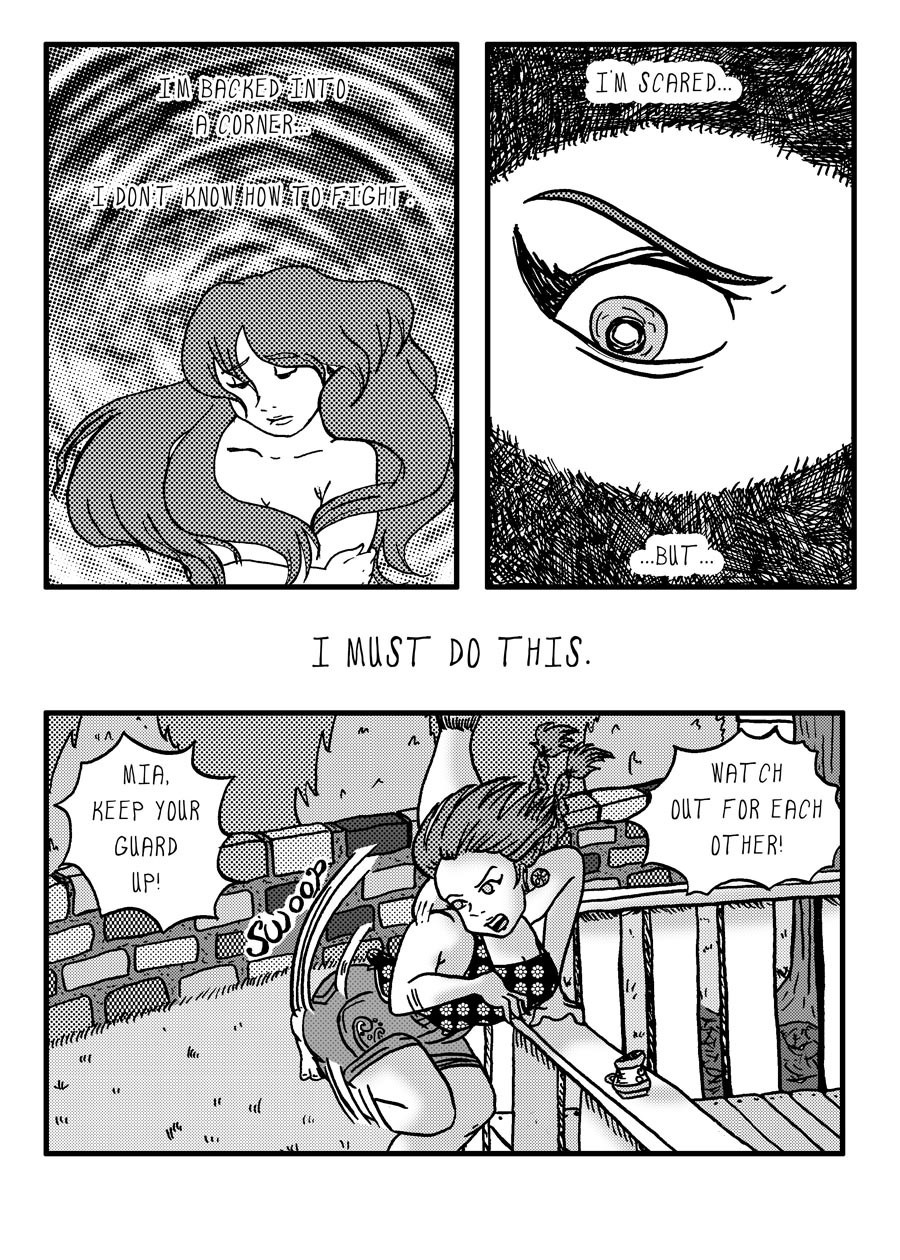 Text play and working on word art is another thing I've been starting to focus on (though, I'm going to be full on studying sound effects and text art in 2023. I know my limits, and I am not really even going to be done studying compositon by the end of 2022, which was a goal I set for myself this year). Anyway, I took the opportunity to play around with a some fonts and colors before we get to see Rin start accessing her magic. I also wanted more internal monologue/support from the mysterious being who was there when Rin first awoke her powers. *Ahem* And also a very...VERY tiny homage
to Pink Floyd
(I mostly throw in Beatles references, but my dudes ((and dudettes, and el duderinos, and all others)), I love the shit out of some Pink Floyd).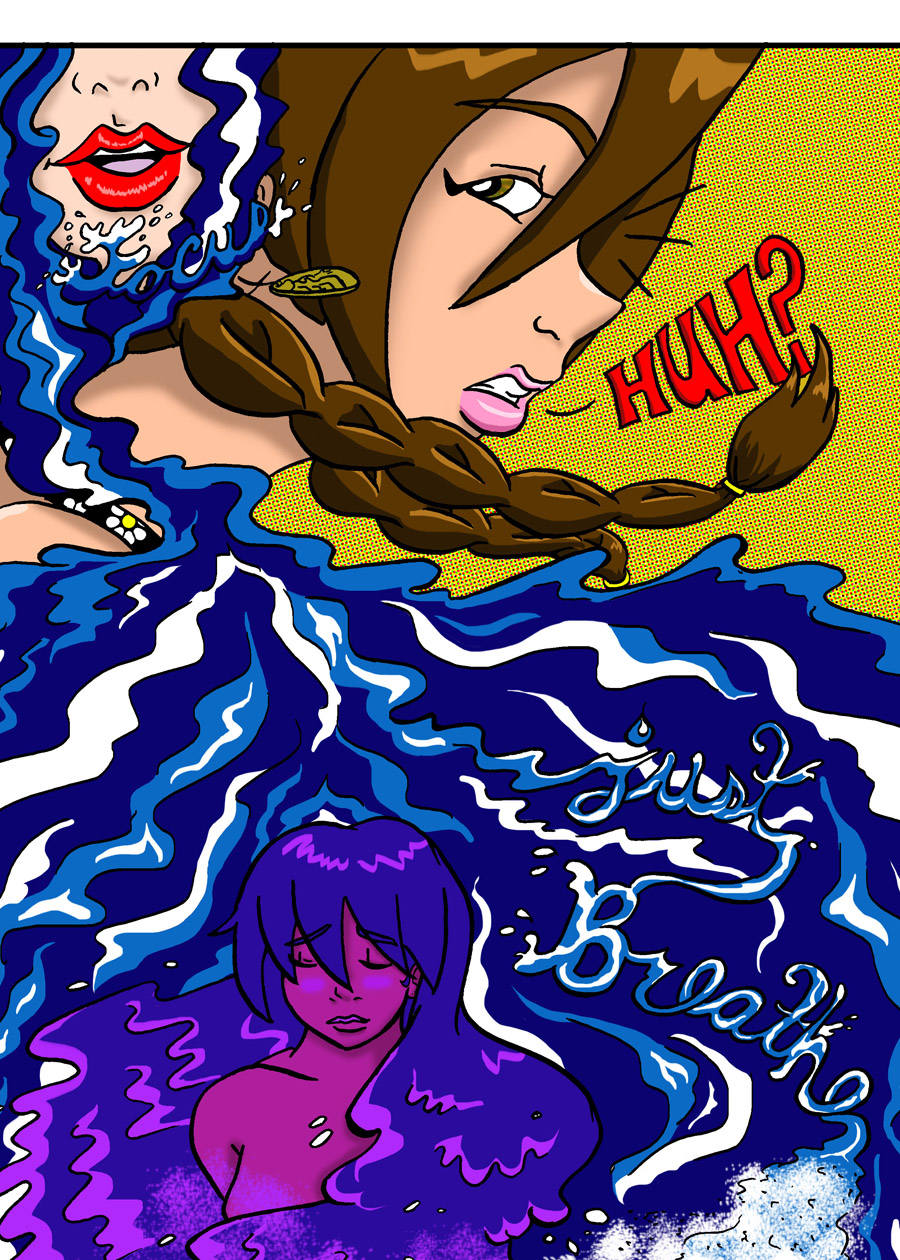 Another one I'm super proud of (though I was proud of the original, too) is when Rin finally takes a stand. I worked hard to make sure her face matched what she normally looks like (well, with some lipstick. Magical girls magically get lip balm. Can't fight with chapped lips, ya'll XD XD):
Old Version New Version
And just some more comparrisons with no commentary.
Old Versions: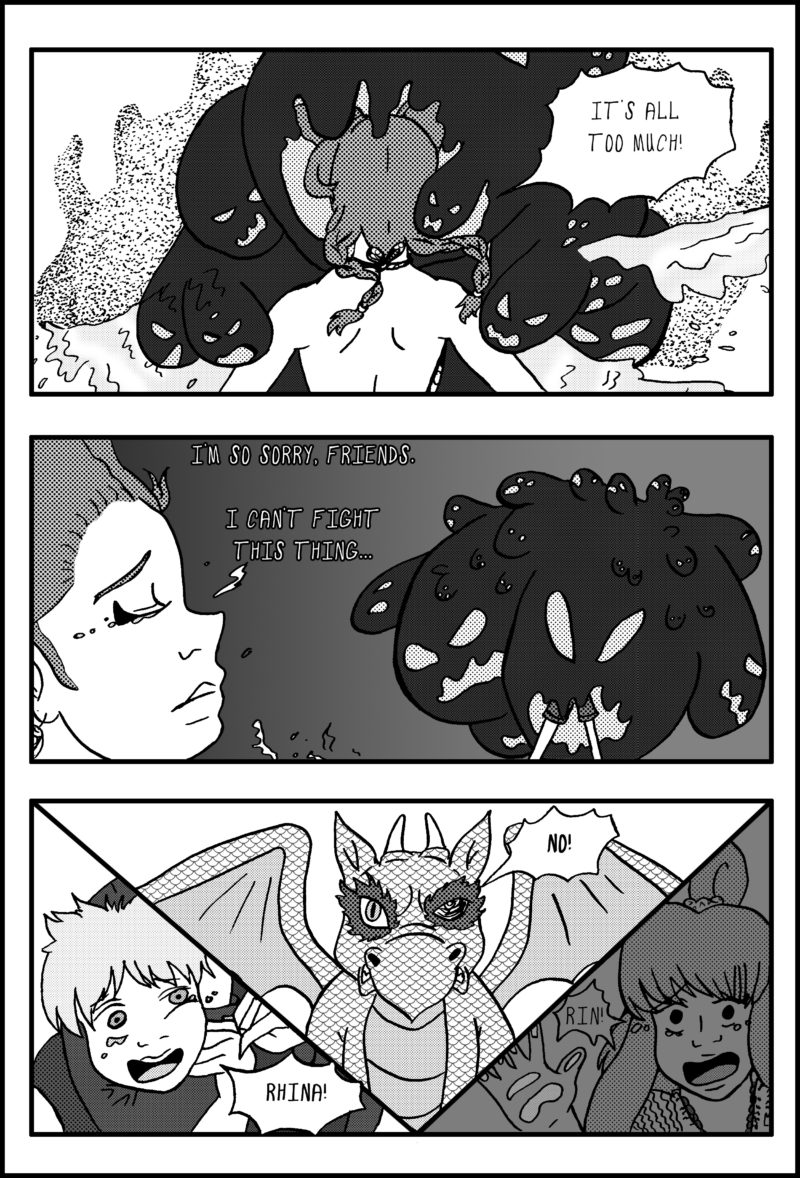 New Versions (note the 3rd eye closing):
Final Page Comparisson:
I am MUCH happier with the updated closing page. I tried to keep a similar color scheme, which will help lead into the next act, "Awakenings," but I worked on an improved composition. I will be babbling about the inspiration in a blog on my Patreon, so I'm hesitatant to talk too much about how I ended up creating the final page ;) But! I'll be working replacing the old pages starting today/tonight. So I should be done replacing old pages this weekend (probably in a couple of hours, if I'm timing things right. This usually doesn't take all weekend).
Thank you everyone for your patience. I am happy to be updating these pages, but I really would love to be continuing with the story D: I apprecaite your patience, and for sticking around! Seriously. I know what it's like to have comics you want to update, but the artists/writers can't get to them. So I thank you for not giving up on me! I will NOT be ghosting. This community is my home. This story is my main project. I will see it to completion, or I'll die of old age before I give up on it XD
As I announced on Friday, I will have a short story/one-shot posting here on ComicFury in July! And it does tie into the story proper/is canonical. The timeline is right after Kanna et al arrived in 2004 in the chapter Time Warp. This one-shot takes place after Rin falls asleep. You'll know more after it posts! I'm excited to work on it. The one-shot will be part of the
Comic Fury Zine
"In Dreams" summer issue.
All right, I need to go make lunch...dinner...whatever it is. Food! That's it. I need to go make some kind of food, and then I shall commence with the updating!
Take care, be safe, and be excellent to each other!
~Blue Dragon/Ashleen